Living aboard a sailboat at quay, Bed and Breakfast at Porquerolles
On a 13m sailboat, enjoy 300 sunny days a year.
LunaSole offers his sailboat to your disposal.

Spending a few days, or a week at Porquerolles during the low season
allows you to fully discover the authentic aspect of this island.
All the biking or walking paths are open (which is not always the case in the summer, due to fire danger).

Sleep and live aboard a sailboat.
Rest far from the summer crowd, and enjoy the peaceful rhythm of this paradisiacal island.

If you do not wish to navigate :

You can discover the island walking or biking. We offer you :
- Either the '' Bed and Breakfast '' option for short stays.
- Or the '' living along the quay'' option, sailboat rented as an apartment, for stays of one week and more.



If you wish to navigate :

We offer you daily cruises with a skipper,
around Porquerolles, Port-Cros or the Presqu'île of Giens during your stay.
This option is very interesting for the people who want to navigate during the low season,
Because in case of bad weather forecast, the skipper's performance is not billed.
You are only charged for the option '' Bed and Breakfast ''

6 beds, 3 double cabins,
2 bathrooms with separate showers.
It is equipped with the following elements :
Sunshade, radio-CD, electric heaters, irons and ironing board, toaster,
and an optional dinghy with an outboard motor for navigations near the port and beaches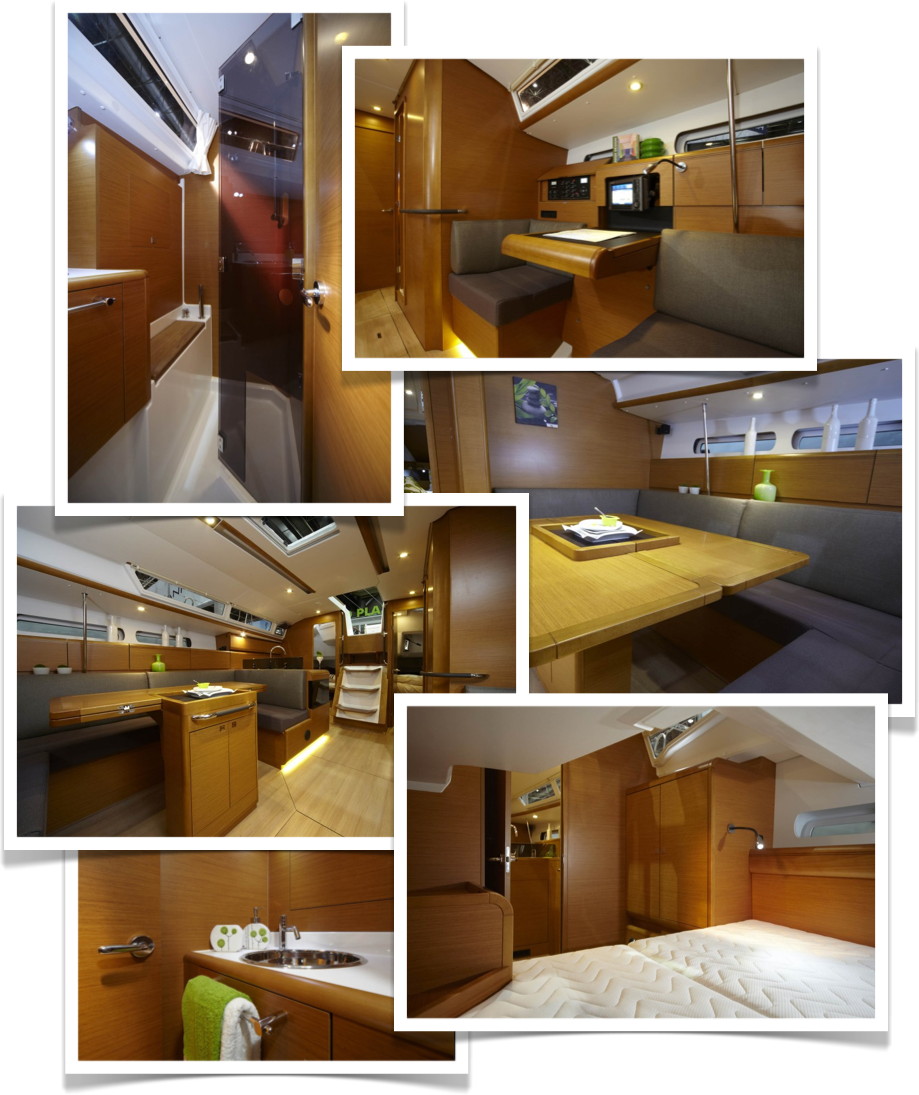 Rates of the sailboat alongside the quay : from October 2018 to April 2019
Sun Odyssey 439 - Private for 1 to 6 people - 3 cabins and 2 toilets
Time of arrival and departure to be set according to your wishes and our possibilities.
The first night for the first cabin, 1 or 2 persons
The folowing nights for the first cabin
Extra cabin for 1 or 2 people, per night and since the 1st night
Quilts, sheets, pillows, towels (per cabin)
Flat rate for heating, water, electricity, gas, boat parking at Porquerolles.
1 week ( for instance: from Saturday 4pm to Saturday 10am )
Quilts, sheets, pillows, towels (per cabin)
Flat rate for heating, water, electricity, gas, boat parking in Porquerolles.
Final cleaning of the boat (3 hours)
Security deposit ( by check, not cashed )
Réservation : 50% deposit at reservation-Remaining balance upon arrival.
We suggest you Cruises and hollidays on a Sailboat with LunaSole Yachting
Croisières en France - Mediterranean Sea - French Riviera :
Croisières en France - Mediterranean Sea - Corsica :
Croisières en Italy - Sardinia :
Croisières en Italy - Sicily - Aeolian Islands - Aegadian Islands :